How To Build Your Net Worth By Building Your Network with Swish Goswami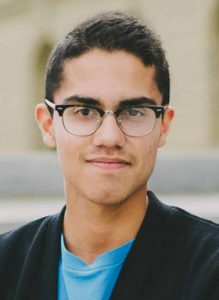 Swish Goswami
Many entrepreneurs share Manu "Swish" Goswami's belief that your net worth is your network. But how do you build a network and, considering nobody wants to be networked with people who only want something from them, how do you create a mutually beneficial relationship with everyone in your network?
In today's episode of WealthWise, Swish shares how he built his personal network and how, at just 22 years of age, that has enabled him to build a successful, multi-faceted career.
Swish is the Founder and CEO of Trufan, a social intelligence platform that helps brands activate grassroots communities made up of super fans and micro-influencers, and allows them to use the power of word-of-mouth marketing.
He is a serial entrepreneur as well as a LinkedIn Youth Editor; a previous Fortune 500 consultant for Google and American Express, a venture capitalist; a UN Youth Ambassador; and a three-time TEDx speaker.
Above all else Swish believes that one skill above all others can allow anyone to build a meaningful network from scratch with no real effort. But it's a skill that few people use in business.
Swish shares ways to derive benefit from your network and outlines some of the ways that you yourself can provide value to your network contacts. There are many ways that you can build your network properly, and those tools aren't online; they are tools that you build through your career.
It's clear to see that behind his early success, Swish has connected deeply with people in all fields of his life, and it's through those personal connections – his "network" – that has allowed him to become so successful already.
Swish believes that your network can allow you to get into any field, even completely new areas in life.
Listen as Swish lays out the value of your personal network and how to build it in a way that is mutually beneficial to everyone in your network.
Recent WealthWise Podcast Episodes
Decisions, decisions, decisions… Without decisions, there is no action, only dreams. Alex Fang is CEO of Sublime Canna Cannabis Corporation, and he's developed a decision-making process that creates predictable and successful outcomes.  Whether that's acing the...