There is great power in giving—it is perhaps the greatest expression of a wealthy mindset.
"We make a living by what we get, but we make a life by what we give" is a quote often attributed to Winston Churchill.
Whatever your idea of wealth is, the first thing you think of when you imagine living a wealthy life might not be giving it away.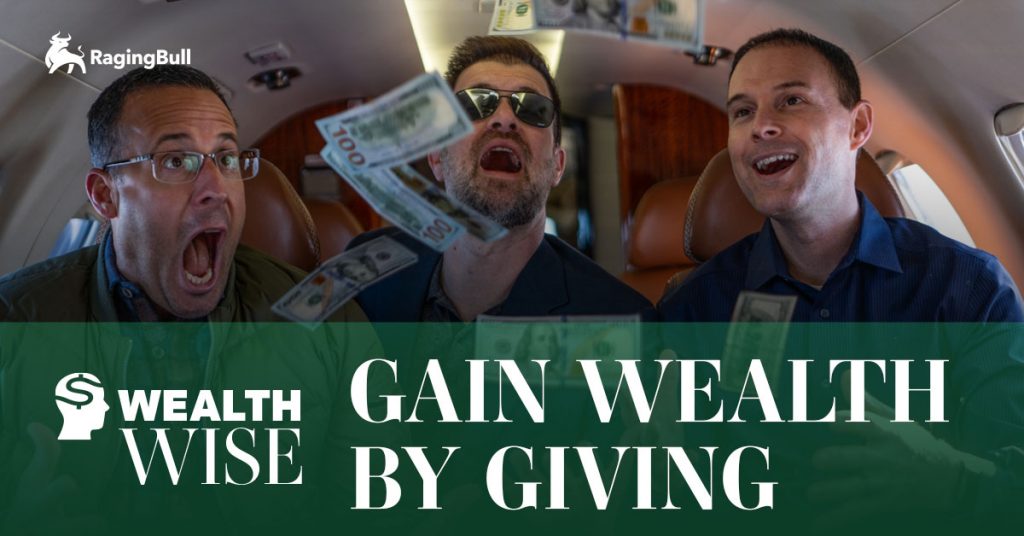 But in this episode of WealthWise we explore the immense value of giving… and we think you will love the guests that we've brought together for this special episode!
We'll be speaking about giving with;
Jeff Bishop

, Co-Founder and CEO of RagingBull.com. For Jeff, wealth is not about what you make, but the difference you can bring. Jeff came from humble beginnings and remembers that sharing wealth and success helps to bring a wealthier life to others.

You may know

Kyle Dennis

by his reputation. By the age of 28 he'd already amassed over $7 million in trading profits. Today on WealthWise Kyle shares why he gives away his time and money to causes both locally and nationally and what giving means to him.

In 2005

Deidra Livingood

started to offer free bedroom makeovers to children affected by tragedies. Her idea grew into Heart and Home Makeovers, whose mission is to create home environments that help families thrive in the midst of hardship. We hear from Deidra about how she gives distressed families an improved home life by providing free home repairs, renovations, furnishings, and decor. Deidra is a powerhouse of hope!

After speaking with

Anthony ONeal

recently we realized just how many of our guests on WealthWise give in some way in their lives with their time, their money, their expertise or in any number of other ways. Hear Anthony's inspiring gift to others at Christmastime!

We connected with two of RagingBull.com's trading students about some of the success they've enjoyed through RagingBull.com. Meet

Taylor and Coco O'Connor

and listen to how they share wealth and bring joy to others. We'll hear how Coco performs music as part of the

Musicians on Call

charity and she's very graciously allowed us to include one of her songs in today's episode!

And finally to RagingBull.com Fo-Founder

Jason Bond

. Anyone who knows Jason Bond will attest that he would give anything to help people. He approaches everything with passion, hard work and commitment, and whether that's through 10 years as an elementary school gym teacher, as a trading educator, or as the Co-Founder of the RagingBull.com Foundation Jason loves to give.





Jason opened up with us about why giving is so important to him.
SPECIAL UPDATE: Just as we were going live with this edition of the WealthWise podcast Jason Bond announced that he is donating $220,000 through the RagingBull.com foundation to St. Jude's Children's Research Hospital!
We invite you to enjoy and to share this episode of WealthWise with your friends and family.
One of the common traits of people who lead a wealthy life is to share it with others. And that's what this episode of WealthWise is about; the immense value of giving and how it contributes to living a wealthy life.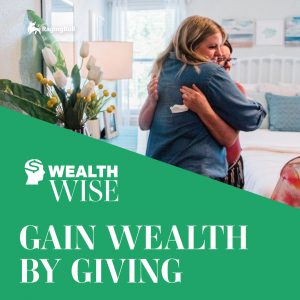 And we don't just mean financial giving. You can live a wealthy life by giving away your time, expertise, money, skills, or something you have that someone else needs. By doing that you will improve the world around you which in turn benefits you and your family, society and the world as a whole.
Each guest featured today shared that the act of giving – of sharing what they have – allows them to help people lead wealthier lives in their own right.
But how does giving something away create more wealth for you?
Giving is truly "paying it forward" and in turn brings greater satisfaction and happiness to your own life because you are spreading the effect that your own wealth can bring to others.
Welcome to the special WealthWise episode about giving.
Give it away!