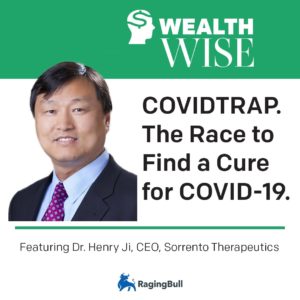 Perhaps you remember our recent podcast with Dr. Ji and Dr. Brunswick of Sorrento Therapeutics (NASDAQ: SRNE).
Well, we invited them back today to continue the discussion about the work that they are doing to find a cure for COVID-19.
Dr. Ji is Chairman, President and CEO, granted us yet another exclusive interview in our RagingBull Elite chatroom to discuss Sorrento Therapeutics' COVIDTRAP and its early promise as a cure for COVID-19.
Of interest right off the bat is Dr. Brunswick's remarks about this approach compared to traditional vaccines. And for people who are opposed to vaccines, this approach is something they would want to seriously consider, possibly even gravitate towards.
There's certainly conversation about this facet of finding a cure globally. Many people are apprehensive about getting vaccinated.
"We are not utilizing the basic immune system of the patient to actually act against the virus. When a person is vaccinated, there they introduce a foreign protein or a virus, and then the body's own immune system reacts to that virus."
Our host Hitha Herzog pressed the doctors to find out whether this could be a potential solution for people who are wary of a traditional vaccination.
"Absolutely," said Dr. Brunswick.
Once again, this is an illuminating dive into the work of Dr. Ji's team at Sorrento. Today, we went into great detail about the COVIDTRAP approach and its early effectiveness. 
Dr. Ji and Dr. Brunswick shared:
Why the COVIDTRAP may actually be more effective

against COVID-19 mutations, not less.

That they have applied for $500M in government funding, and expect a reply about their clinical trials.

 Whether patients may have to "top-up" on the COVIDTRAP antibodies, depending on the dosage used.

Whether there is any possibility that the body would reject this approach.
The doctors answered many of Hitha's questions about the application of this treatment, and explored a lot of the deeper scientific principles behind the approach.